Maps that Reveal on Your Computer Screen
Project data is migrated to interactive GIS platforms available on-line
Treat GIS Maps as Data
Interactive GIS access in our projects has enabled us to create data, assemble it with other information, and show it on the screes well-known to our clients. One of tactics we have used since GIS maps became commonplace (about 2000), is to treat GIS Maps as Data. We show these GIS images and interactive maps to our clients in a variety of ways. We have used the ESRI interface (shown below) allowing viewers to zoom into an area, examine hazard mitigation measures, view proposed load layout designs, or to inspect habitat modifications detailed in written materials. We have also used the GIS programs assembled by our clients to place new GIS data into their programs of choice (WinGIS, MapWindow, DOT Spatial, GRASS).
Data Analytics

An Interactive Mapping Example
Benewah County Wildland-Urban Interface Wildfire Mitigation Plan
Originally written in 2007, Updated on-schedule in 2012
Benewah County has witnessed some significant disasters throughout history. One notable event was the August 1910 Wildfire, which charred over 3.0 million acres within the region, and approximately 87,500 acres in Benewah County alone. This inferno resulted in over $1.0 million in damages at the time (1910). The total death toll has been estimated at over 300 lives. This event has been well known as "The 1910 Fire" and "The Big Blowup". Other large wildfire events impacting Benewah County have included wildfires in 1900 (21,240 acres), 1889 (11,500 acres), 1927-28 (6,700 acres), 1931 (5,000 acres), 1919 (4,700 acres), 1929 (3,400 acres), 1969 (1,400 acres), 1932-33 (1,100 acres), 1922-23 (170 acres), and 1927 (90 acres). Each of these events indiscriminately crossed county and state boundaries to char lands in the path of the inferno. Although some of these blazes appear to be small, the size shown here only reflects the impact on Benewah County; for instance, the 1927 wildfire event torched a total of 28,300 acres in Benewah County and adjoining areas.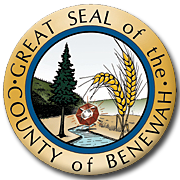 This Wildfire Mitigation Plan update is designed to keep the County's focus on the positive benefits we have seen since these activities were initiated in 2004. Wildfire spread has been limited, and homes have not been destroyed to the extent they could have been. The photo above shows the destruction of a wildfire in neighboring Latah County (Moscow Mountain), which burned forests and homes within one burning period in July, 2003. Preventative measures can reduce, or eliminate, these catastrophic events, and save lives. For these reasons, Benewah County, with the Coeur d'Alene Tribe, US Forest Service, the Bureau of Land Management, Idaho Department of Lands, Idaho Department of Parks and Recreation, Idaho Bureau of Homeland Security, Potlatch Corporation, Inland Forest Management, D&D Larix, the St. Maries Fire Protection District, Gateway Fire Protection District, Tensed Fire Department, and the Fernwood Fire Department teamed together to plan how to locate and implement activities to reduce risks from wildfire destruction in Benewah County.
At the bottom of this page is an interactive map showing the potential mitigation measures we have mapped for implementation by the cooperating agencies and organizations to make a real difference in the lives of Benewah County Residents.
Mission Statement
To make Benewah County residents, communities, and businesses less vulnerable to the negative effects of natural hazards through the effective administration of hazard mitigation grant programs, hazard risk assessments, wise and efficient mitigation measures, and a coordinated approach to mitigation policy through county, Tribal, state, federal, regional, and local planning efforts. Our combined prioritization is the protection of people, structures, infrastructure, economy, and unique ecosystems that contribute to our way of life and the sustainability of the local and regional economy.
Vision Statement
Institutionalize and promote a county-wide hazard mitigation ethic through leadership, professionalism, and excellence, leading the way to a safe, sustainable Benewah County, Coeur d'Alene Tribe, and local municipalities.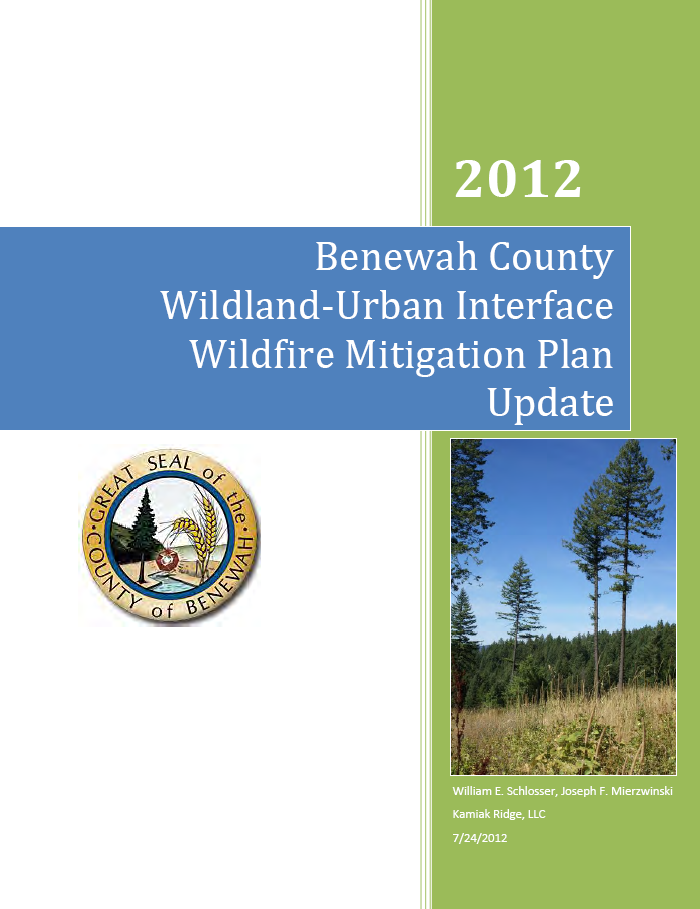 Goals
The Benewah County Wildland-Urban Interface Wildfire Mitigation Planning Committee has adopted a series of primary goals intended to benefit each populated place, municipality, and the county's residents and visitors.
Reduce the area of land damaged and losses experienced because of natural hazards where these risks threaten communities in the county.
Prioritize the protection of people, structures, infrastructure, and unique ecosystems that contribute to our way of life and the sustainability of the local and regional economy.
Educate communities about the unique challenges of pre-disaster hazard mitigation and post-disaster response.
Establish mitigation priorities and develop mitigation strategies.
Strategically locate, plan, and implement hazard reduction projects.
Provide recommendations for alternative treatment methods that can impact the exposure to multiple hazards at one time.
Promote and implement disaster-resistant development policies.
Build and support local capacity to enable the local government and the community to prepare for, respond to, and recover from disasters.
Reduce the threats to public health and safety posed by natural hazards.
Establish mitigation priorities and develop mitigation strategies.
Reduce the long-term costs of disaster recovery and disaster mitigation through intelligent and strategic mitigation policies and practices.
Identify and facilitate the management for sustainable land use in light of natural hazards and our management of the land resources.
Click the image to download the PDF
Interactive GIS Map! link hosted by ESRI